Printed Lumber Covers
Printed lumber covers manufactured at Flexpak allow customers the ease of lumber cover application with a strong advertising platform for market branding. Printed lumber covers can be produced in a number of different designs, allowing for maximized advertising while providing lumber and wood products the protection they need before reaching the consumer's hand.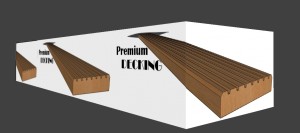 Flexpak holds the value of quality print and plastic substrate as an important step to driving the design of a cover for lumber and wood products. The cover can be used for more than just a protective barrier against the elements endured in the shipping process; the cover can represent the solidity of the customer's product by both print and design. A lumber cover with effective print can establish a foothold against the competitor, leaving the question of quality and price from an unknown disposition to a known state. A consumer's response to why they purchased a given lumber product over the competitor's product might come down to the simple understanding of the product which was initially influenced by the design printed on the lumber cover.
- Judge a book by its cover…judge lumber in shipment by its printed cover design -
The design of printed lumber covers is as important as the print. Flexpak works diligently with its customers to find a baseline for the goal of not only the print but also the other variables in package function. The baseline for establishing function in lumber cover design allows for the development of an effective medium for print. The goal of printed lumber covers is usually not a single road to problem solving. The multiple variables causing problems in delivering a quality product to the consumer can be overcome. Lumber cover design as well as print can add market share and are worth the consideration. People are drawn to a product based on the quality of package, and this is true in the wood and lumber product industries.
Give your lumber and wood products a new image:
Printed lumber covers may not be enough to solicit the advertising effect that is desired. Whether or not a lumber cover is properly applied will also affect the customer's understanding and opinion of a product. The best print in the world will not be enough if the end-line packaging team is not educated on effective packaging steps. Stapling or strapping the printed lumber cover onto the pallet effectively is key to getting the most out of your print. The sales department at Flexpak can work with customers to better understand proven solutions to lumber packaging. More information can also be found on the Fastening page.
Please feel free to contact Flexpak at any point to discuss different printing options for lumber covers.